CEO's Message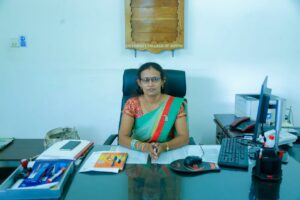 It is a matter of pride and immense pleasure that destiny has given me the opportunity to join University College, Jaffna family as its CEO.  As I assume duties as CEO / Director, University College, Jaffna, I wish to dedicate myself to its vision, prosper lives through education and its mission, produce skilled and competent youth force to meet the industry requirements and support the community through the continuous engagements and industrial innovation.    
University College of Jaffna (UCJ) is one of the leading Vocational institutions in the Northern province. From the beginning in 2014, UCJ has evolved tremendously and has contributed in the development of individuals as well as the nation as a whole. University College of Jaffna offers eight different courses in different discipline which are mostly connected with the skill development sector which is the fast-growing trend in the vocational industry. 
University College of Jaffna has a student population of more than 500 and has students from different ethnic backgrounds. University College of Jaffna is a well- known institution in the Northern province and students from all over the country study here from various socio-cultural, ethnic and linguistic backgrounds which fosters social harmony, cultural diversity, equal opportunities and unity. 
University College of Jaffna follows outcome-based curriculum which is the need of the hour and it mainly focuses on student centered learning which is the recent trend when it comes to education sector especially vocational education and skill development sector. With the massive growth in the technology field, Vocational Education has become an inevitable and important factor concerning Education and UCJ takes pride in offering qualified vocational training to cater this need.
Adding to this University College of Jaffna mainly focus on the skill development and to put this in to practice we have well established laboratories where the students get hands on experience on different fields. The main emphasis is on the quality of vocational education and to achieve this we have highly qualified and experienced academic staff to bring the best in the students and to enhance the teaching learning environment to ensure high standards of academic progress in par with the modern trend in skills development.
There is no denying the fact that we are living in an age of rapid globalization and modernization of life. Our lives are propelled by the advancements in science, engineering and vocational technology. Therefore, our aim is to provide the best possible environment for teaching, learning, research and public services as we strongly believe in the education of 'hand and heart' which gears the tempo of our civilization. I am of the opinion that a leader and an administrator should be reasonably good in problem solving skills, possess a high morale, ethical responsibility, integrity and vision along with good communication and an ability to motivate.  
I wish to state that the University College of Jaffna is fully geared to give its best in the coming years and nurture the students not only in academic excellence but also as a responsible citizen who can contribute to the wellbeing of a Nation. I also assure that I am ready to provide the necessary leadership to produce competent youth force as our vision and mission states. To achieve these goals and objectives I join hands with our staff in UCJ to work towards fulfilling the dreams of our students. 
I would like to conclude by quoting Michael Gurian, "if we want children to succeed, we need to bring them back to education by making education relevant to them and bring in more service learning and vocational education".
Dr (Mrs).Vijitha.Paheerathan
CEO / Director
University College of Jaffna